Grit, Tenacity, Resilience: Change your story
How do you turn the worst moment of your life into the best?
I don't know. We're only at the beginning of the adventure. But, I think that's the key to eternal happiness.
This is the story of how a Grade 8 teacher goes from thriving in the classroom to quitting the profession entirely in a matter of months.
At the end of this post, I'll be asking you to step up and help make the world a better place.
Too long? Watch the YouTube video where I talk about some difficult issues including depression and school shootings.
Short on time? Here's the Table of Contents:
Michael Fuchigami. Version 1.0: Classroom Teacher at Longfields Davidson Heights (LDHSS)
Michael Fuchigami. Version 2.0
Michael Fuchigami. Version 1.0: Classroom Teacher at Longfields Davidson Heights (LDHSS)
Once upon a time, I was a teacher.
I taught Grade 8 at Longfields Davidson Heights Secondary School in Ottawa, Canada.
I loved teaching. Over the past decade, my classroom program evolved around connecting technology, literacy, and diversity. Marking sucked, but teaching in the classroom was gold.
My favourite units revolved around trying to bring the "real world" into the curriculum through authentic learning tasks and Entrepreneurial Adventures.
I tried to challenge stereotypes and hidden biases by exploring The Danger of a Single Story.
Teaching Geography gave me the opportunity to explore global inequities and use data to figure out How Not to be Ignorant.
Throughout my teaching career, I was fortunate enough to go to multiple workshops and professional development opportunities.
Education is really about learning. And I loved being both the teacher, and the learner.
I went to a Cultural Proficiency workshop at the Museum of Tolerance in Los Angeles.
(Yes, the one with the Hollywood sign.)
This was an important paradigm shift for me: by considering our own biases and experiences, we can begin to see the invisible lens that we view the world.
By acknowledging and examining this lens, we can begin to better understand our role in power dynamics – an important concept for educators.
I had the opportunity to collaborate with Garfield Gini-Newman, a thought leader around Critical Thinking
Garfield Gini-Newman is a professor of Curriculum, Teaching and Learning at the University of Toronto, as well as a part of The Critical Thinking Consortium.
He does lots of workshops for teachers around critical thinking and inquiry based learning. I didn't realize he had a TED talk about inspiring wonder through thinking and learning, but here he is.
Few teachers in the board had the opportunity to co-develop a lesson around critical thinking with him and get feedback.
The highlight for me was teaching critical thinking strategies to my students in a portable using a fishbowl format, surrounded by a crowd of principals, reading Olivia and the Fairy Princesses. Good times.
One of the biggest learning opportunities for me came from some in-house OCDSB professional development about "Intent vs Impact"
Walter Piovesan, then Superintendent of Instruction, and eventual Associate Director of Education for the OCDSB, often spoke about the concept of "Intent vs Impact."
As teachers, we might intend one thing through our lessons, but the impact on our students might be entirely different. We need to be cognizant of the difference between Intent and Impact.
Piovesan talked about power. Here's a snippet from his presentation to the Ottawa Carleton Assembly of School Councils:
For teachers and parents, our default behaviour is often one of power. When working through an issue, it's useful to start at the opposing point of view and work over to your own. If you start at your own point of view, you're already saying you're right. (Source: OCASC notes, March 12, 2009)
Although many of us don't realize it, teachers (and principals) are entrusted with a lot of power to help shape the lives of our students.
It takes a village to raise a child, but thinking about power dynamics is an important must for educators.
Piovesan retired from the OCDSB in 2014. To this day, I still think about the importance of considering Intent vs Impact in my lessons.
I learned so much from my students.
One time, my students were running a fundraising dinner to help build a school in Haiti with Free The Children. The Embassador of Haiti was coming to our event. It was a big deal.
In my class, we were brainstorming how to handle a hurdle that had just come up. I can't remember the specifics – there were always traps and challenges to overcome.
But, I do remember, afterwards a colleague came up to me and said, "I know you just asked your students for their 'input,' but what are you really going to do to solve the problem."
That's just it. This wasn't a farce of student involvement.
I was asking my students for help to solve a problem because I couldn't figure out a solution on my own. Authentic struggles through authentic learning.
My classroom was my own personal learning laboratory where I could explore new pedagogies and polish some tried and true methodologies. My lessons were based on input from students, observations that I made, and professional judgement.
I learned about how to make money online… from a Grade Seven student.
When I first started out, one of my students told me about how he made money online. He even told me an anecdote about how his dad was worried because it was too easy because he didn't have to work for it.
The student recommended a book that he read: Affiliate Millions. I read that book and it introduced me to the world of affiliate marketing. Basically, I review products, and if someone clicks my link and purchases the product, the store gives me a finder's fee. It doesn't change the price you pay for the product, but it does help to pay for web hosting fees and to keep the lights running.
(Disclaimer: This book was written in 2007. I don't think some of the ideas around Google Ad arbitrage in the book would work today because most affiliate programs prohibit you from directly sending traffic to their sites from Google Ads. Affiliate Marketing has changed since the book was written.)
Over the past 12 years, I've made around $45,000 (Canadian) online through this side hustle of affiliate marketing.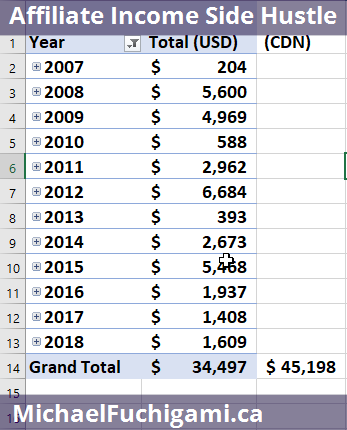 Most of that money went to cover classroom experiments and expenses:
I bought five 32″ tv screens and a 60″ TV with stand, and stationed these around my classroom so students could present to mini groups at the same time. (It's also a lot easier to do group work with a single chromebook if you can actually see what's going on…)
I paid for my own classroom printer and colour printing of posters and signs.
I bought thousands of dollars in clothing prizes and other incentives for classroom fundraising projects.
I paid for way too many Timbits to game-ify learning.
I paid for my classroom library of books.
I paid for software: Adobe Creative Cloud and the latest versions of Microsoft Office.
I paid for web hosting so my students could develop media literacy skills.
I bought my own projector (before projectors in the classrooms were a thing), but I was fortunate enough to win my own interactive whiteboard as a prize.
I paid for class supplies, duotangs, notebooks, and consumable resources to enrich my program.
I learned about life from my students
I learned that life can be tough and unfair. Over the years, some of my students were going through some crazy stuff at home, but you'd never know it from the mask that we all wear. Most days, these students found a way to smile and make their way through the day. Inspirational.
I learned from my students as much as I tried to teach them. I like to think that we learned together.
Personal Leadership: I talked the talk, and tried to walk the walk.
I'm not perfect – obviously I made mistakes and bad judgement calls. Every teacher does. That's part of being human. My goal was to be better than who I was yesterday.
But I did earnestly believe in trying to make the world a better place.
I did school assemblies about RISE: I believed, and still believe, that schools should be safe places of learning that encourage Respect, Inclusion, Safety and Empowerment.
I tried to help students to see themselves both as local citizens, and global citizens. The Better World Project was a group of Grade Seven and Eight students and teachers who were trying to make the world a better place.
It was born from an idea I had when the new Ontario Geography curriculum rolled in: "Citizenship education is an important facet of students' overall education." (Ministry of Education, pg 9)
When my students organized Vow of Silence campaigns, it meant something to me on a personal level. I think it's important that those of us who have a voice, speak up to help people who have no voice.
I believe in the power of the First Follower. I would show my students this leadership video, and we would discuss how to be a leader:
Leadership doesn't always mean coming up with a great idea, or being the person in front.
Personal leadership happens when we stand up and support something we believe in. We're the "first follower" – we show that it's socially acceptable to follow this idea. People don't look to the leader, they look to their peer group.
"We're told we all need to be leaders, but that would be really ineffective.

The best way to make a movement, if you really care, is to courageously follow and show others how to follow.

When you find a lone nut doing something great, have the guts to be the first person to stand up and join in." Source: Sivers
Whether we're talking about the bystander effect with bullies, or the need for men to redefine what it means to man up, being the "first follower" is essential to making the world a better place.
Integrating character education and life lessons into the curriculum and classroom was a cornerstone of my soul.
In short, I loved being a teacher.
Colleagues would ask me when I would consider becoming a principal, and I would always answer, maybe in a few years. I was just having too much fun in the classroom.
So many things to try. For example, right now, there's a movement in education, and in Ontario, to focus learning skills on broader transferable skills… well, that's just exciting stuff.
I firmly believe in a top-down and a bottom-up approach to enact paradigm shifts within a school, and school system. You need administrators to empower employees, and you need teachers who can be first followers that can get behind progressive ideas and best practices. I loved being a teacher – I was all in.
Then, something happened at school.
And, I resigned.
It's because of the job I love that I'm leaving the job I love. Click here for more information
Michael Fuchigami. Version 2.0
I chose to quit from the Ottawa Carleton District School Board, effective Dec 31, 2018.
As teachers, our collective agreement allows us to resign or retire at two points: on December 31, and at the end of the school year.
I had been on medical leave and out of my grade 8 classroom at Longfields Davidson Heights (LDHSS) since April 2018.
I left the profession and gave up my full-time teaching contract at the end of the calendar year so that I wouldn't have to sign a non-disclosure clause if I asked to be released from the board at a different exit point.
This is my fight song.
(Feel free to listen to Fight Song in the background as you read this section.)
In Version 1.0, my whole identity was wrapped around being a classroom teacher and doing my best to help students get closer to being ready for the "real world".
But my life changed, and I had to quit my job.
Right after my contract with the OCDSB was completed, I called the Ontario College of Teachers and gave up my teaching license.
Take back my life song.
As of Jan 1, 2019, I am in the process of re-inventing myself.
In a surprising way, teaching a strategy-based literacy program to 13-year-olds has helped me build a lot of transferrable strengths:
I can analyze texts and infer meaning.
I can play with words to create mood.
I can deconstruct media and evaluate whether I think things are effective.
I can simplify concepts into bite-sized chunks
I can organize large scale projects.
I can inspire people behind an idea.
I can achieve incredible goals.
Prove I'm all right song.
I am choosing to rewrite my personal narrative.
MichaelFuchigami.ca is the story of me becoming a successful web entrepreneur: I use the internet to help people be better.
It's the union of two things I love:
Playing on computers, and
Learning
It's better than chocolate and peanut butter, ying and yang, nuts and gum… you get the idea.
I need a purpose bigger than me to keep me going through tough days.
So, from this point on, ten percent of all of my earnings will be donated to help Mental Health for Children. That's ten percent before expenses, bills, and other jazz.
My goal over the next 25 years is to donate one million dollars to Kids Help Phone and Do It For Daren.
Oh, did I mention that right now I have no job. My pay check is zero.
Here we go.
My power's turned on.
In order for me to donate one million dollars to children's mental health organizations, I need to make ten million dollars.
I'm not sure I can tell my therapist that I want to make ten million dollars. That just sounds crazy.
It's gonna be a good, good life. That's what my therapist say. Source: I'm a mess.
Ten million dollars sounds like an unimaginable sum of money to average folk like you and me. But, I think that's because you and I don't hang out with millionaire friends.
Steve Siebold is a self-made millionaire. He interviewed hundreds of millionaires, and wrote a book, How Rich People Think. Siebold writes in Business Insider about how rich people choose their friends.
Rich people spend time with rich people in the same way that religious people hang out with other people of the same faith, and active people like to hang out with other people who are fit and active.
"Exposure to people who are more successful than you are has the potential to expand your thinking and catapult your income. We become like the people we associate with, and that's why winners are attracted to winners."
And, apparently, rich people think differently from middle-class people. Siebold's strategy to become rich:
learn how rich people think,
copy them,
take action,
get rich.
Dear Millionaires of the World, come find me. Nevermind. I'll find you.
Starting right now, I'll be strong
I have no illusions about getting seven digits this year. But, I think within 25 years, I could do it.
John Rampton writes in Entrepreneurial Magazine about eight tips to becoming a millionaire this year.
Rampton's "Step 1" is to develop a written financial plan. Working on that.
For "Step 2," he cites Grant Cardone who went from broke (at 21) to self-made millionaire (by 30):
"Focus on increasing your income in increments and repeating that. My income was $3,000 a month and nine years later it was $20,000 a month. Start following the money and it will force you to control revenue and see opportunities." Source: Entrepreneur
Cardone talks about following the money. So, I'm tinkering with a few different online side hustles to see what can grow with a little rain and sunshine.
How do I go from zero to hero?
Try to make $100 per month
Try to make $1,000 per month
Try to make $10,000 per month
You get the idea…
I'll play my fight song
I'm a very shy and private person.
And yet, I need to become a brand.
The reason why some pro athletes get paid so much is because they have a huge audience.:
"… one of the reasons pro athletes make so much money is that we love to watch their games. Media companies pay the leagues and teams billions of dollars for the rights to show the games on television and other video devices.

These businesses pay the money because they know millions of fans will watch the games. TV networks then sell ads for cars, pizza and lots of other stuff that they show during the games. I once counted more than 150 ads during a single pro football game on television.

The teams also make money by selling shirts, hats, coffee mugs and anything else you might want with the team logo. " Source: Washington Post
I want to change the world. I want to donate a portion of my income to mental health charities. I want to donate a significant amount of money.
In order to do that, I need to be able to reach out to a significantly large audience.
And, so I need Michael Fuchigami to become a recognizable name, and put myself out there.
I need to become an example of how things can get better. We need to hear better stories than the sensational headlines we get from news media, social media, or streaming tv.
And I don't really care if nobody else believes,
This might become an epic flop. At the time of writing, my twitter following has an epic 14 followers!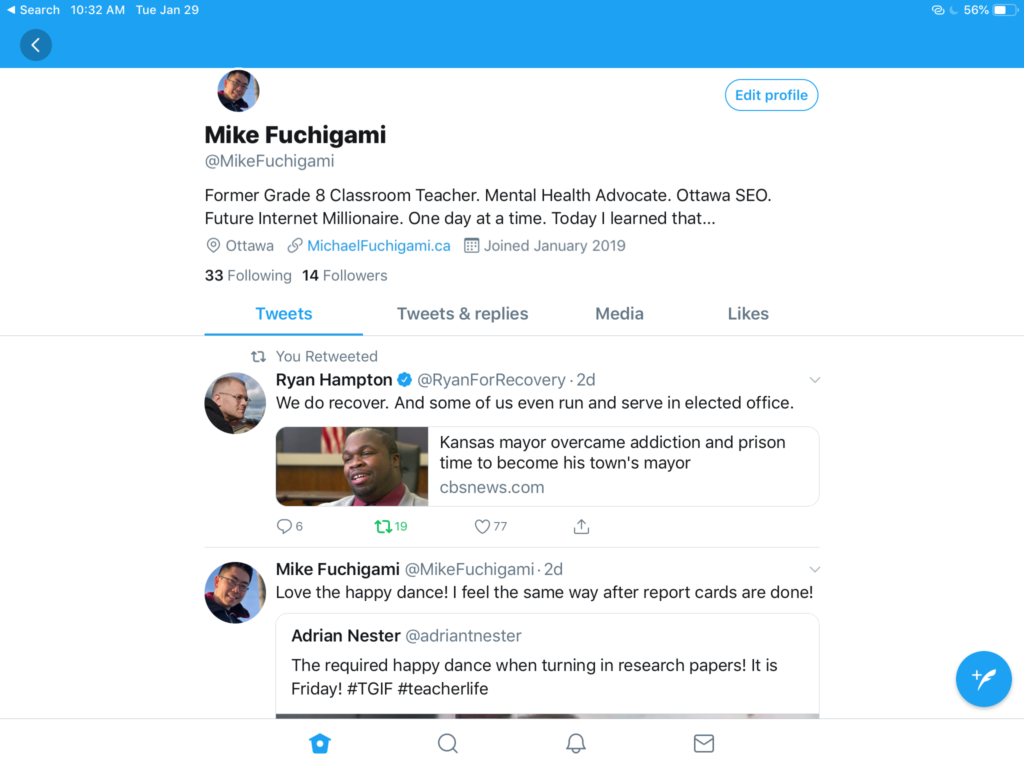 The internet wilderness is filled with trolls, dead ends, and steep learning curves. It can be a scary, unforgiving place.
'Cause I've still got a lot of fight left in me
But, it's also filled with opportunities to connect with people beyond my physical neighbourhood.
I think if I
I think, eventually, I can win.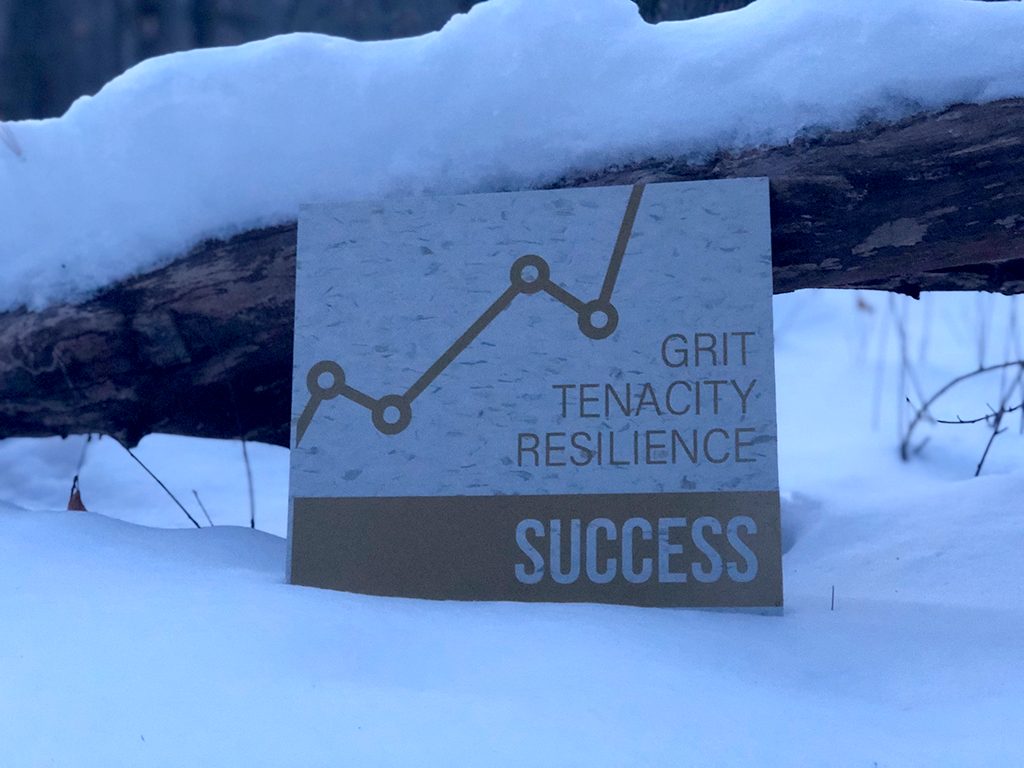 I need your help. (Psst, this is the Call to Action)
I need your help to make the world a better place. I need you to be like that First Follower in the video.
Watch the video (again) to get leadership lessons from the dancing guy. (Leadership isn't what you think it is. You'll be surprised.)
Here are seven ways to help start a movement.
1) Stay in the loop. Sign up at MichaelFuchigami.ca
How does a teacher go from loving the teaching profession to leaving the teaching profession in such a short time?
Great question. I'm not able to tell that story, yet.
Sign up at MichaelFuchigami.ca to stay in the loop.
2) Buy these Perseverance strategy posters
This was one of the last units I taught in my teaching career. It's one of my favourite memories.
It was a lesson around empowerment. There are always obstacles in life. How do we get through those obstacles?
I told my students that I had an important message to tell the teacher next door. And then I tried pushing through the wall to get to him.
Unfortunately, no matter how hard I tried, I couldn't get through the blackboard. I needed a new strategy.
Of course, the students had a number of suggestions. Use the door and walk around. Call him. Send him a text message.
Sometimes when we're stuck in the moment, obstacles seem insurmountable. We keep doing the same thing, and get frustrated when we get the same results. Trying harder isn't always the solution.
This was a series of posters I made and posted at the back of the class. A colleague translated them into French, because there are never enough French resources around growth mindset (or anything, for that matter…)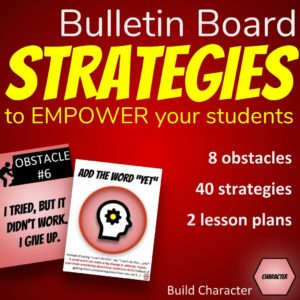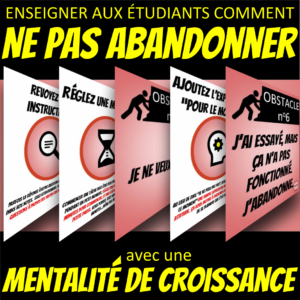 Posters can be purchased from TpT using the links below. (You get 8 obstacle posters, 40 strategy posters, and 2 lesson plans. The posters are regular 8.5 x 11 size, and the handout pages have 4 posters per page.)
If you're a teacher, use them to help develop a growth mindset with your students.
If you're a parent, use them to help develop independent problem solving children.
If you're neither a teacher, nor a parent, get it as a gift for the teachers or parents in your life.
Or, simply buy the posters for yourself.
Remember 10% of every package sold gets donated to help student mental health.
Links:
3) Build Grit, Tenacity, and Resilience with your students and your own children by teaching them how to work for goals.
Very soon, students will be receiving report cards in Ontario.
If I was still teaching in the classroom today, this would be the goal setting lesson I would use the day after report cards went home. That's a great time to talk about improving our learning habits, especially as we head towards the last term of the school year.
(Goal setting is a great thing to do at the start of the school year when students are eager to have a fresh start. It would also be good for New Year Resolutions or even after you handed back a tough test or exam. Actually, learning how to struggle through obstacles and accomplish goals is probably good anytime…)
I posted the entire goal setting slideshow for students for free. 100 slides. Check it out.
SEOT.ca is a new website I launched in January 2019 after I resigned from teaching. It's a work in process, but I think it gives teachers and parents a way to have a conversation with students and children about how to work smarter (instead of just working harder.)
Use STRATEGIES
Put in the EFFORT
OPTIMIZE what you do
TINKER with new ideas…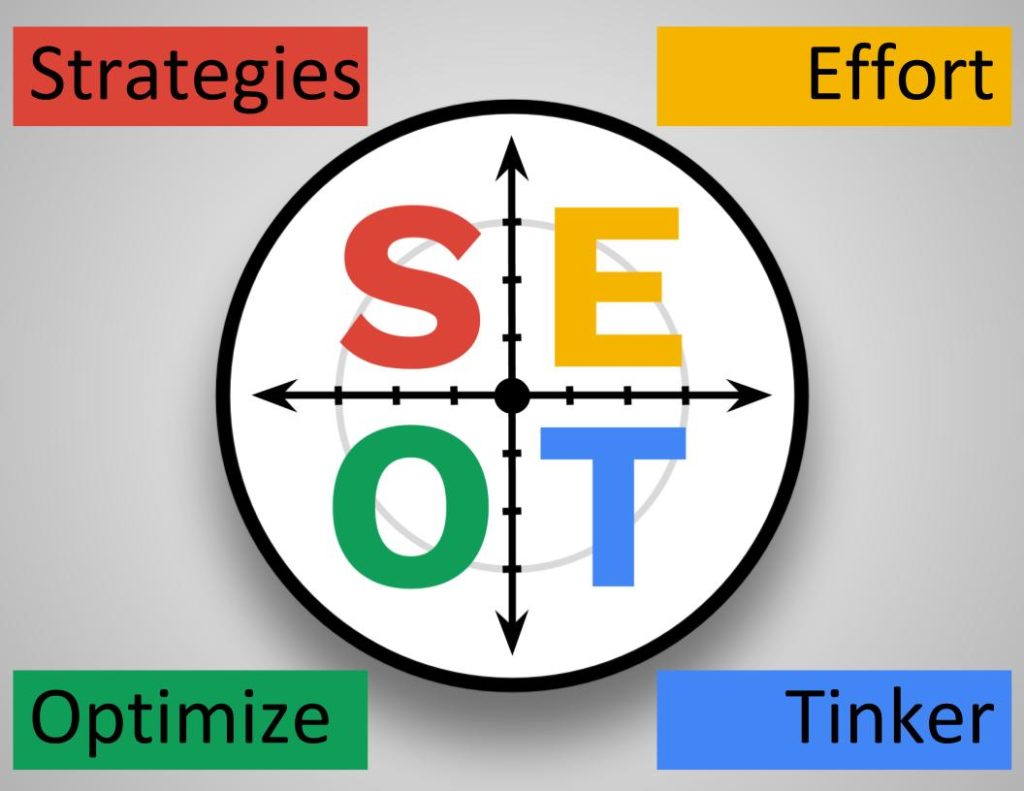 Working hard is no longer enough. And, often times, people don't know what it means to "work smarter."
I try to use these strategies myself as I go through good days and bad days.
It's hard when things aren't easy. It's hard when you're the only one standing up. Over the next little bit, I'm hoping to fill it with stories and examples of people persevering.
4) Donate to Kids Help Phone
One time, after we watched a particularly difficult play, I modelled for my students what to do if they were having a hard time: Something was preoccupying their thoughts. It's late at night. Everyone else is asleep. What do you do?
My students had a lot of great suggestions.
Distract yourself with music.
Talk to a trusted friend or adult.
Exercise.
Go for a walk.
But, what do you do when it's late at night and you can't do those things.
Eventually, one of the students would always suggest Kids Help Phone.
Kids Help Phone is fantastic: they're a lifeline for big and small problems. Their phone number is easily accessible on chocolate bars and their online website has lots of great resources to help students cope with life.
STAY TUNED: I'm working on getting a link to keep track of donations inspired by this post…
5) Donate to Do It For Daren
"In November 2010, 14-year-old Daron Richardson died by suicide.

From this tragedy came a movement to transform youth mental health.

Daron's parents Luke and Stephanie Richardson decided to transform their very private pain into a public call-to-action and made a decision to support young people who struggle with mental illness." Source: DIFD website
In Canada, more than 5,800 children and youth have died by suicide in the past 13 years. Some as young as eight years old. Source: Toronto Star / Ryerson School
According to Stats Canada, there were an estimated 10.2 million children and young people in Canada in 2010.
We can estimate that 5,800 children and youth dying by suicide over 13 years is an average of 446 youth per year.
If there are 10.2 million children and young people, and 446 die by suicide, that means there are 10,199,554 children and young people alive. This is fantastic, and we can never forget this.
But, if your child, classmate, or a loved one dies by suicide, your life is irrevocably changed.
Yes, I know I've oversimplified the math. Yes, I know that some communities and groups are more vulnerable.
But I think youth mental health and resilience cannot be taken for granted in today's digital world normalizing extreme violence. In fact, the Ontario Ministry of Education put forward a memo advising against the use of 13 Reasons Why as a teaching tool in the classroom.
As adults, I think we need to be "first followers" and have positive and courageous conversations with our kids about mental health. DIFD has some resources for parents and youth as a starting point.
STAY TUNED: I'm working on a link to keep track of donations inspired by this post…
6) Be Better Than Who You Were Yesterday
Cliche, but it's true.
We don't need to be perfect. In fact, we need to let perfection go.
But, we should try to be better than who we were yesterday.
7) Share this story
If you agreed with anything in this post, please comment and share this on social media. Email it to your friends, the parents and teachers in your life.
If you disagreed with anything in this post, but took the time to read this far, please comment and share this on social media.
The point of this post is to engage in public discourse. Sometimes, you need to speak up.
Cheers, Mike